Climb That Hill Part 2 – How FERC's Refined Policies Will Affect New LNG Terminals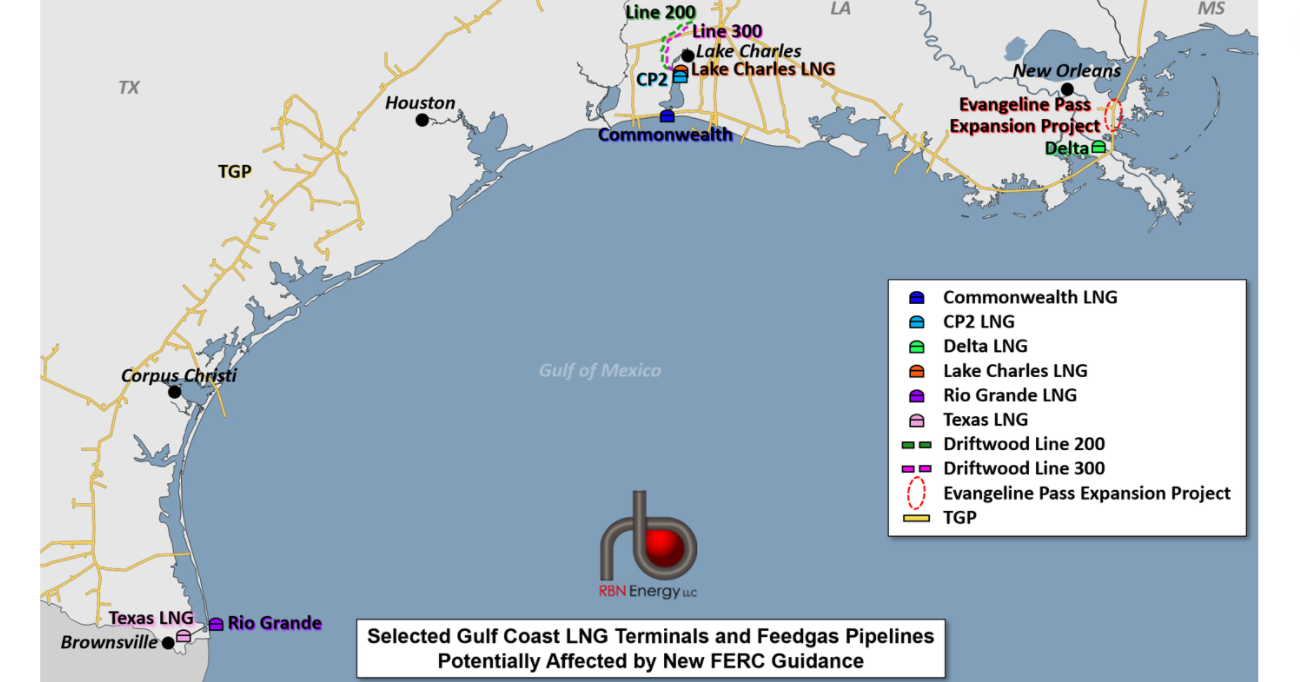 The Federal Energy Regulatory Commission (FERC) released two new policy statements on February 17 regarding the certification of new pipelines and the assessment of greenhouse gas (GHG) impacts. Together, the two updates reflect a more meticulous regulatory environment and stricter adherence to the policies that intermediaries must adhere to in order to avoid the lengthy and costly legal challenges that have become more common recently. The guidelines will affect most new projects under FERC's jurisdiction, and of these, some of the most significant impacts will be felt in the growing U.S. LNG sector – the terminals themselves and the pipelines that provide them with feed gas. This could be concerning, as Russia's war on Ukraine has exacerbated an already precarious gas situation in Europe and a global shortage of LNG supply. In today's RBN blog, we explain the impact of the latest FERC guidance on pipeline certification and GHG policy as it relates to the LNG sector.
In Part 1, we reviewed the clarifications provided by FERC regarding the updated Certification Policy Statement (PL18-1) and the Interim GHG Policy Statement (PL 21-3). We concluded that, overall, the Certification Policy Statement (SOP), which outlines the criteria that new FERC-regulated projects must meet for certification, would place renewed emphasis on factors other than previous agreements. such as community impact, but really it's just echoing what FERC is already doing. So while the Certificate SOP represents a new commitment to higher standards that new projects must meet, prudent project developers would have anticipated and planned for these obstacles. In other words, it should not be a big change from the criteria already applied. Unlike the SOP certificate, which has already been in effect for decades, the GHG SOP will eventually lead to a final policy statement after the commission has received feedback. Depending on the language included in the GHG policy once finalized, it is likely to require an environmental impact statement (EIA) for projects with a relatively low emissions threshold of 100,000 metric tons per year (MT/ year). The preparation and approval of an EIA takes much longer than an environmental assessment (EA) and could end up being a greater burden for new projects, particularly if the final version of the guidance includes a requirement for assessment of impacts downstream of Litter 3 emissions — those related to the ultimate consumption of natural gas and other hydrocarbons.
As the guidelines now exist for both SOPs, the impact on most gas projects should be fairly minor, but this is only true because the environment at FERC and the United States Court of Appeals for the DC circuit was already much more difficult after a change of guard inside these organizations over the past two years. However, these stricter standards already significantly lengthen the time it takes to go through the FERC approval process, adding even more uncertainty to interim development. This is a hard pill to swallow for developers of small projects who may not have the economies of scale to meet such rigorous standards. From a macro and long-term perspective, however, the greatest potential impact of the certificate and the GHG SOPs combined could be on the massive LNG export facilities aimed at sending US gas to the international market and pipelines. which supply the terminals. It is important to note that SOPs will have more impact on some projects than on others.
As we wrote in our LNG Traveler (which has a full list of those projects, if you're interested), the policy changes don't override any previously granted permissions. Instead, they will only apply to projects with pending or new applications to FERC, although applicants with projects pending before the commission will have the opportunity to complete their filings to reflect the policies. The good news is that, overall, most LNG projects in development and all facilities likely to make a final investment decision (FID) this year already have their federal construction approvals, so it's less serious for them. . However, pipelines that will be required to supply feed gas to facilities may face longer regulatory delays. Additionally, there are three projects on our radar that do not yet have FERC clearances and will have a faster climb to certification than their predecessors: Commonwealth LNG (dark blue icon in Figure 1) and two new Venture Global projects, Delta LNG (green icon) and CP2 (short for Calcasieu Pass 2; light blue icon). Commonwealth and Delta are both in the environmental review process and CP2 is still in pre-filing.
Figure 1. Map of selected Gulf Coast LNG terminals and feed gas pipelines potentially affected by new FERC guidelines. Source: RBN
Two LNG projects in Brownsville, TX –– NextDecade's Rio Grande LNG (purple icon) and Texas LNG (pink icon) –– both received FERC approval in 2019. But, as the Pipeline Spire STL in St. Louis, Missouri, whose certificate was returned after controversy over its route, the two LNG export projects continued to face a denial that their permits were flawed based on analysis of the FERC's impact on environmental justice communities, which may include minorities and low-income populations. Brownsville is in a predominantly Latino area of ​​Cameron County, TX.
Another potential red flag is that many already licensed projects have had to file extensions with FERC to complete construction due to the length of time that has passed since they originally received their permits. This has no impact on what RBN has classified as "next tier" projects – or which ones were likely to take FID this year, as we noted above – as those projects have already received extensions. if necessary. However, for other projects that were hoping to potentially break into that higher tier, policy changes can become a problem. Lake Charles LNG (red icon), for example, has applied for an extension and is awaiting a response. While FERC may honor the initial authorization and extend its construction deadlines, FERC has not always honored the petitioner's exact requests, sometimes granting a shorter extension than requested, and so on. Given the policy changes, it's also possible that FERC could allow Lake Charles' application to lapse and force the proponent to return for a new environmental review. (Sempra said it would seek a change to its Cameron LNG expansion license and postponed FID on the project to 2023 as it switches liquefaction technology to be all-electric, including compression, but made no mention of FERC's policy change during a recent earnings call.The new liquefaction technology is greener, so FERC is unlikely to reject an extension given that the previous version was already authorized.)
Perhaps even more impactful than what is happening with the terminals themselves will be how these guidelines affect pipeline extensions related to LNG development that have yet to be finalized, such as the Lines 200 and 300 from Driftwood (dotted green line and dotted pink line, respectively) to supply the proponent's LNG terminal, and Tennessee Gas Pipeline's (TGP) 2.2 Bcf/d Evangeline Pass expansion project (red oval dotted line) to fuel Venture Global's expansion plan. Plaquemines LNG terminal. If supply gas cannot arrive by the time the terminal is ready, the project will not work.
Moreover, as we (and everyone else) have noted, LNG is in high demand, as evidenced by skyrocketing international prices since last fall, especially the huge growth in European LNG demand due to low regional storage inventories and lower volumes of piped gas. This trend is only set to continue given the unrest caused by Russia's invasion of Ukraine and the European Commission's announced plan to cut imports from Russia by two-thirds by the end of this year. (to see You don't own me). The US LNG fleet is operating above capacity to help fill this need and RBN anticipates that approximately 10 Bcf/d of new LNG export capacity will be added over the next five years. But beyond that, if global demand remains high in the long term – if, for example, more coal and nuclear power plants are dismantled in recipient countries – the world could need even more LNG, then even that new terminal projects in the United States face these more difficult challenges. standards and an uphill battle for approval.
"Climb That Hill" was written by Tom Petty and Mike Campbell and originally appeared as the fourth song on the ninth studio album Tom Petty and the Heartbreakers: The Motion Picture Soundtrack Album It's the right one. Released as a single in August 1996, the song rose to number six on the Billboard Mainstream Rock Tracks Singles chart. The song was included in the 2020 release of Wildflowers and all. The personnel on the record were: Tom Petty (vocals, guitars, harmonica, piano, harpsichord), Mike Campbell (guitars, piano), Benmont Tench (organ, piano), Howie Epstein (bass, backing vocals) and Curt Bisquera (drums) .
It's the right one was recorded between 1992 and 1996 at Sound City, Village Recorders and Andora Studios in Los Angeles. Some of the songs included on the album were extras from the Wild flowers sessions when it was decided to do Wild flowers a single album instead of a double LP. It's the right one is the soundtrack LP to the 1996 Edward Burns film of the same name. Produced by Rick Rubin, Tom Petty and Mike Campbell, the LP was released in August 1996. It peaked at number 15 on the Billboard 200 Albums chart. and was certified Gold by the Recording Industry Association of America. Three singles were released from the LP. A reworked version of the album was released under the title angel dream for Record Store Day in 2021.
Tom Petty was an American singer, songwriter, musician and record producer. He has released 16 studio albums, eight live albums, five compilation albums and 68 singles as a member of Tom Petty and the Heartbreakers. He has released three studio albums as a solo artist, two albums and five singles with the Traveling Wilburys, and two studio albums and a live album with Mudcrutch. Petty has sold over 80 million records worldwide. He also received a Gershwin Lifetime Achievement Award and is a member of the Rock and Roll Hall of Fame. Petty passed away in October 2017.