Umani Festival Comes to Downtown Moses Lake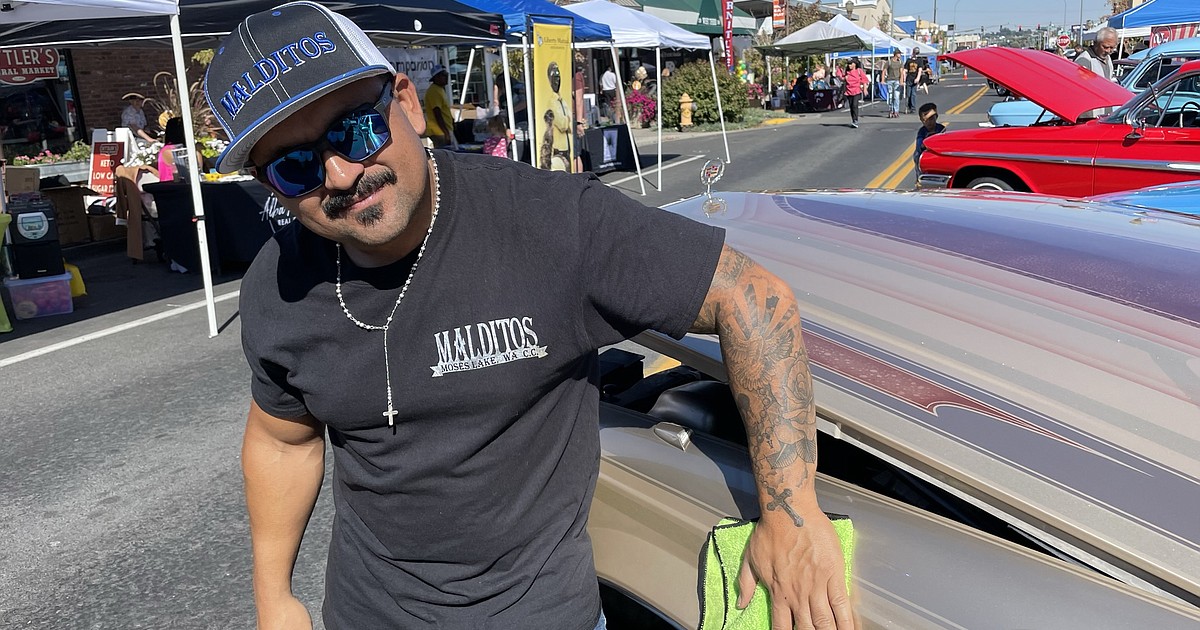 MOSES LAKE – Two blocks in downtown Moses Lake were jammed Saturday afternoon for food, music, classic cars and a general celebration of the area's Hispanic culture during the Umani festival.
"We have a huge Hispanic culture here," said Derek Martinez, owner of The Favored Farmhouse. "So I think showcasing that culture, I think it's just awesome."
The festival, which featured Mexican-style mariachi music by Mariachi Huenachi, Andean-style folk music by Hermanos de los Andes and Cuban-style acoustic dance music by Seattle-area band SuperSones, is new. and was organized as a joint effort of Columbia Basin Allied Arts, the Moses Lake Creative District, the Downtown Moses Lake Association, and custom auto and clothing store EDUB C/S.
"We at the library had this idea about three years ago, but we couldn't afford to make it happen," said Connie Baulne, branch supervisor at the Moses Lake Public Library and board member. Creative District Board of Directors. "And it's late. I mean, our community is really diverse and that should be celebrated.
"So why not throw a big party?" said Baulne.
Third Avenue between Beech and Division streets was blocked between 2 p.m. and 8 p.m. Saturday. The area was packed with businesses and nonprofits showcasing their products and services, lined with decked out lowriders, and filled with people strolling around, looking at cars, taking photos, and enjoying the music.
"I like lowriders," Giovanni DeLeon said as he gently polished his 1996 Cadillac Fleetwood Brougham.
DeLeon is a member of the Malditos automobile club – the sweetest translation is "the bad guys" – one of the many lowrider clubs in the Moses Lake area. He works and has a family, but he enjoys getting together with friends and other club members to work on cars and go on weekend cruises. That's why a festival like Umani is important, he said, to give the region's growing Hispanic population a chance to come together and show off.
"We're just average Joes like everyone else, but on weekends we go out and play," he said. "We go to (other lowrider shows) in Spokane or Seattle or Yakima. But Moses Lake, you know, they don't make that many lowriders.
He explained that Hispanic culture is one aspect of diversity that events like the Umani Festival highlight.
"We want everyone to know we're a small, small town but we have some nice cars," DeLeon added. "That way everyone knows that Moses Lake isn't small anymore. You know, it's a big city.
Carolina Juarez, OIC outreach specialist from the Moses Lake office in Washington, which serves Grant and Adams counties, said she was present at the Umani Festival to let people know about the services and the assistance from her organization, a nonprofit in south-central Washington that helps those in need to get back on their feet, offers. According to Juarez, OCI has a number of programs to help people who are behind on their utility bills, rent, or mortgage payments, and can even help people with tuition and financial aid. for the university.
"There's so much help out there," Juarez said. "We try to do a lot of community events, and we're always open to getting out into the community and the counties we serve."
Martinez said he was impressed with the turnout and even the weather this year, and hopes this is just the start of something that will continue to grow.
"It looks like a great turnout so far, and you couldn't ask for a better day," he said. " So let's go. Let's go."
Charles H. Featherstone can be reached at [email protected]