Van Hollen and Kaine introduce bill to protect low-income veterans and families from housing discrimination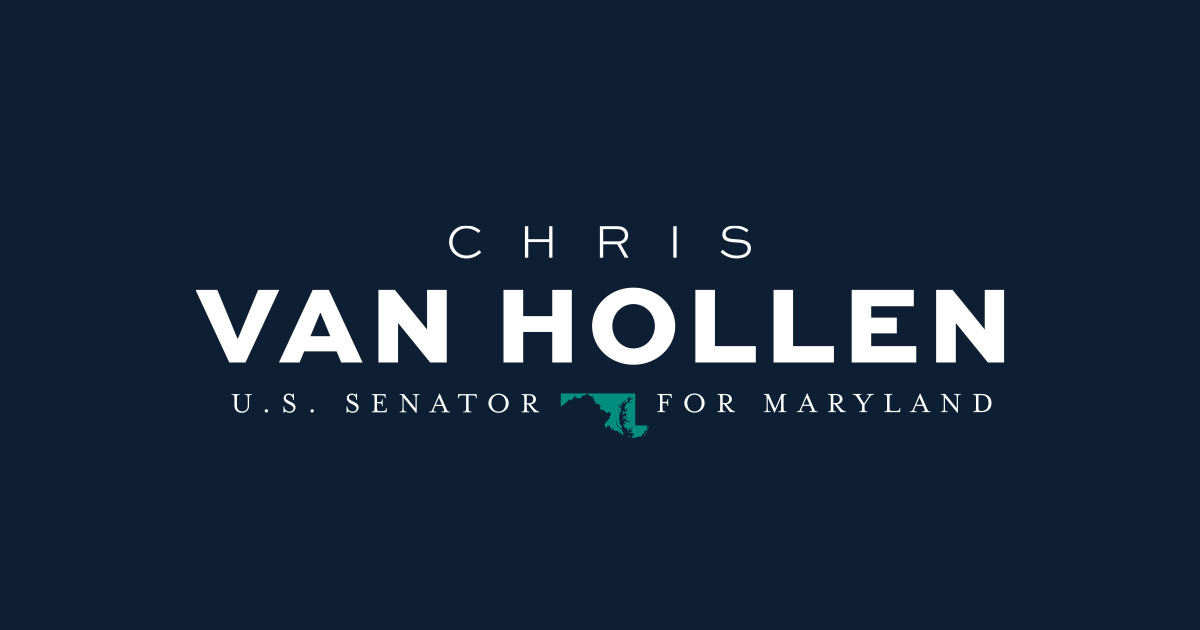 June 23, 2022
Today, U.S. Senator Chris Van Hollen (D-Md.) joined Senator Tim Kaine (D-Va.) in reintroducing the Fair Housing Improvement Act of 2022 to protect veterans and low-income families from housing discrimination. Current law allows landlords to deny housing to people based on their source of income, and many veterans and low-income families have reported discrimination when using vouchers to pay rent. The Fair Housing Improvement Act of 2022 would expand the protections under the Fair Housing Act 1968 include prohibiting discrimination based on source of income, giving more individuals and families access to affordable housing and a chance for economic mobility. The bill is co-sponsored by Senators Michael Bennet (D-Colo.), Amy Klobuchar (D-Minn.), Patrick J. Leahy (D-Vt.) and Catherine Cortez Masto (D-Nev.).
"No one in our country should be discriminated against when it comes to housing. But for many Americans who use housing vouchers – including veterans and low-income families – it is perfectly legal for a landlord to reject them, based on this factor alone," said Senator Van Hollen. "This legislation will end this discriminatory practice and ensure that American homeowners are not unfairly denied affordable housing."
"As a former fair housing advocate, I have witnessed how affordable housing can bring stability and open doors to opportunity, but I have also seen how discrimination in housing excludes unfairly the people of this opportunity", said Senator Kaine. "This legislation would build on the success we've seen in Virginia in protecting veterans and low-income families across the country from discrimination and helping more Americans access housing."
"With Coloradans in the midst of a housing crisis, no family should face additional hurdles when looking for a home," said Senator Bennet. "But right now, military personnel, veterans and low-income families can be denied housing based on how they pay their rent. Our legislation will help end this harmful discrimination and protect families looking for accommodation.
The federal government provides vouchers to help 2.3 million veterans and low-income households live in decent, stable private market housing. Owners, however, can decline these vouchers in states and cities where there is no source of revenue protection. Fair housing complaints have remained stable, with nearly 29,000 complaints in 2020. People of color, especially black women, are disproportionately affected and more likely than any other group to be evicted or be refused accommodation.
The Fair Housing Act 1968 prohibits discrimination based on race, color, national origin, religion, sex, marital status and disability. The Fair Housing Improvement Act of 2022 would add source of income and veteran status to the list of protected classes. It would prohibit landlords from denying housing to people who use Housing Choice Vouchers (Section 8), HUD-Veterans Affairs Supportive Housing Vouchers (HUD-VASH), benefits received through Security social security, income received by court order, payment from a trust or guardian or any other legal source of income.
Complementary legislation was introduced by Congressman Scott Peters in the House of Representatives.
The bill is supported by: A Way Home America, American Bar Association, Autistic Self Advocacy Center, Autistic Women & Nonbinary Network, Catholic Charities, Center for Law and Social Policy (CLASP), Coalition on Human Needs, Community Change Action, Council of Major Public Housing Authorities, Council of State Community Development Agencies, The Corporation for Supportive Housing, Disability Rights Education & Defense Fund, Enterprise Community Partners, Funders Together to End Homelessness, Grounded Solutions Network, Hispanic Federation, Housing Opportunities Made Equal Virginia, Inc., LeadingAge, Local Initiatives Support Corporation, Low-Income Investment Fund, National Alliance of Community Economic Development Associations, National Alliance to End Homelessness, National Association for County Community and Economic Development, National Association for Latino Community Asset Builders , National Association of Housing and Redevelopment Officials, National Association of Local Housing Finance Agencies, National CAPACD, National Center for Housing & Child Welfare, National Coalition for the Homeless, National Community Action Partnership, National Community Development Association, National Consumer Law Center, National Health Care for the Homeless Council , National Housing Law Project, National Housing Resource Center, National Housing Trust, National Low Income Housing Coalition, National NeighborWorks Association, National Women's Law Center, NETWORK Lobby for Catholic Social Justice, Opportunity Starts at Home Campaign, Paralyzed Veterans of America, Poverty & Race Research Action Council, Prosperity Now, Public Housing Authority Directors Association, Stewards of Affordable Housing for the Future, StriveTogether, Technical Assistance Collaborative, The Kelsey, True Colors United, Veterans Association of Real Estate Professionals, Virginia Housing Alliance, Virginia Poverty Law Center and Up for Growth Action.
"I commend Senator Kaine and Rep. Peters for introducing this important legislation to help address discrimination, segregation and inequality in housing," said NLIHC President and CEO Diane Yentel. "Where you live has a huge impact on the opportunities we have in life – everything from educational attainment and lifetime earnings to better health and life expectancy. For too For a long time, discrimination has kept low-income people from living in the neighborhoods of their choice – including communities with jobs that pay decent wages, good schools, health care and transportation – simply because they rely on federal housing benefits to make ends meet.This legislation is an important step toward righting that wrong.
"Too often, income discrimination prevents low-income families from accessing the neighborhoods of their choice, which perpetuates economic and racial segregation and seriously impedes the upward mobility of young children," said Mike Koprowski, national director of the Opportunity starts at home country. "Imagine going to a landlord and saying, 'I would like to live here. It would be a better life for my family. I can pay the requested rent with my voucher. You have units available. It's a legal and stable source of income, and I meet all other rental conditions. And you're just told "no" just because you have a voucher. This is not fair, and I commend Senator Kaine and Representative Peters for bringing forward this important legislation.
"The American Dream is one in which everyone has a safe place to call home, regardless of gender, income level, race or disability. We know that stable and affordable housing is associated with better physical and mental health, increased food security and better educational opportunities. This is why the Fair Housing Improvement Act is so vital, because by helping the homeless among us, it will make us all stronger, healthier and safer," said Meredith Owen, director of policy and advocacy at Church World Service. "We commend Senator Kaine and Representative Peters for reintroducing this legislation and his efforts to make this kind of security a reality for all. We urge Congress to join him in providing a more certain future for the thousands of 'Americans in Search of Hope.'
"We commend Senator Kaine and Rep. Peters for introducing legislation that will go a long way in addressing housing discrimination, which has existed in this country for far too long," said Luis Guardia, president of the Food Research & Action Center. "Hunger relief advocates know well the balancing act that many low-income families face when they steal-Pierre-to-pay-Paul: pay for food or pay for a roof over their head. No one should have to choose between these basic metrics needs."
"For too long, women, especially black women, have struggled financially, mentally and physically due to systemic barriers preventing them from accessing safe, accessible and affordable housing," said Melissa Boteach, Vice President of Income Security and Child Care/Early Learning at the National Center for Women's Rights. "Even when women can access housing assistance, they still face opposition from landlords who refuse to accept federal housing vouchers. We commend Sen. Tim Kaine (D-VA) and Rep. Scott Peters (D-CA) for introducing the Fair Housing Improvement Act, which creates a federal prohibition on discrimination based on source of income for renters. If passed, this law will provide more women with the opportunity to obtain stable housing, which, in turn, will directly contribute to better health, better education and better financial outcomes.
"We support this legislation to protect tenants from housing discrimination. Too often, landlords refuse to rent to low-income families using income-based and veteran-based vouchers. People who have campaigned for serve their country as well as people using vouchers must be protected against discrimination," said Liz Seaton, policy director of the National LGBTQ Task Force Action Fund. "Housing vouchers are a legal, important and valuable source of income. When landlords refuse to house veterans or voucher holders, it can prevent financial opportunity, access to education, and a good quality of life. The worst impacts, of course, are on women, people of color, people with disabilities, LGBTQ individuals and families, and more."
The The Veterans Association of Real Estate Professionals (VAREP) said"Ending discrimination of all types against our veterans and active duty service members is a core mission of Senator Kaine and VAREP. Passing this bill will prohibit housing discrimination once and for all." based on source of income, veteran status or military status.
The full text of the bill is available here.